SYSTEM INTEGRATION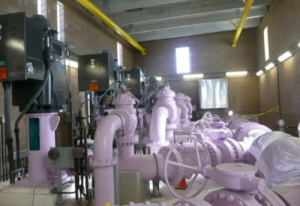 Alpha Southwest (ASW) is a full service system integrator. We specialize in pumping and fluid handling applications using controls, instrumentation, SCADA systems, Variable Frequency Drives (VFD), motors and Programmable Logic Controllers (PLC).
ASW can provide motor control systems to meet your needs. Using both innovative and practical designs, our motor control panels' solutions can increase a control systems longevity, lower operation costs, and can satisfy unique project specifications.
Integrated motor controls can include solid state controllers, electro-mechanical starters, variable frequency drives, low to medium voltage contactors/starters, communication packages, and more.
ASW's SCADA (Supervisory Control and Data Acquisition) systems solutions can meet varied project requirements from elevated tank automation, pump stations, or to entire water treatment plants. These systems can range from a single server installation to hot-standby terminal servers that log data to a historical data server.
ASW can provide a full range of solutions from Programmable Logic Controller (PLC) Application Programming, integrating your remote I/O sites, to setting up redundant "Hot Standby" configurations when your control systems absolutely have to be always online.
ASW also provides start-up, warranty and field services for various turf pump skid manufacturers as well as all the product lines we represent.
Contact Us