ABOUT
Alpha Southwest, Inc. is New Mexico's premier supplier of custom engineered pumping systems, fluid handling systems, water treatment systems, wastewater & storm water pumping systems, SCADA systems, and measurement instruments.  ASW's service capabilities include: fabrication, machining, installation, support & maintenance, well services, and general contracting.
From its humble beginnings, ASW has devoted its very existence to providing engineering, consulting, maintenance and repair services to many of the major municipal water providers throughout New Mexico and in El Paso County for over 5 decades. Our project portfolio includes well over 5,000 successful projects since its beginning in 1964.  ASW currently has major maintenance contracts on booster stations and water wells for the following City's: Albuquerque, Rio Rancho, Santa Fe, and El Paso, TX.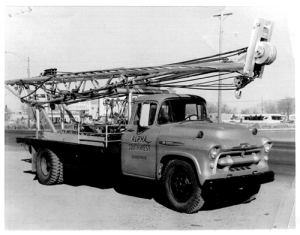 Alpha Southwest – 1964 – First Well Workover Truck 
Our years of combined experience, makes ASW uniquely qualified and positioned to provide clients its expertise and "know-how" to solve complex pumping problems and keep them running.  With over 13,000 square feet of fabrication facilities, heavy equipment and locations in Albuquerque, New Mexico and El Paso, Texas, staffed by over 40 highly trained people, we can readily service and support all the clients statewide.
ASW's business philosophy provides many benefits and value to our clients like:
1. A consultative approach when working with clients.
2. A single source for projects to insure they done right, safely and are on schedule.
3. Paying only for what you need.
4. Control over the equipment installed.
5. On-going support and maintenance to insure the success of the project.
Alpha Southwest, Inc. is a privately held corporation incorporated in the State of New Mexico in September of 1964. Rick L. Yates is the President of the Corporation and David M. Yates is the Executive Vice President of the Corporation.
Contact Us